by Janet Attard
How do you grow an online business? Look for opportunities and go after them. That's how I became a content provider to America Online and to the early MSN, and got started on the Web. Read about it in this 2nd part of the 32nd online anniversary story.(Note: this is part 2 of the story of Janet Attard's 32nd anniversary as an information provider. To read how she started in 1988, click here.)
As a writer, I had always thought how neat it would be to be a syndicated columnist. With payments based on the number of newspapers that carried a column, you'd get paid multiple times for each piece you had published.
I had never actually pursued the idea, though. But then one day, I thought, why not apply that concept to articles I wrote to put on my GEnie forum. Why not write a regular column and put it on multiple online services. I dug out my contract with GEnie and saw that it wasn't an exclusive agreement. There was nothing that prevented me from syndicating my work.
I didn't know anyone at the other online services and had no idea how to find out who contact.  So, I just picked up the phone and cold-called America Online and Prodigy. I asked the operator at each service to put me through to "whoever would be the right person" to speak to about publishing a small business column on the service. Prodigy said they didn't want a small business column or forum at that time. The person I spoke with said small businesses wouldn't be interested in using their service.
AOL was interested, but they wanted more than the Business Know-How® column I was proposing. They wanted me to create a complete forum – articles, download library, message boards and chats, just like I was doing on GEnie. I told them I didn't want to do all of that. I just wanted to write the column. They suggested I try running a forum for three months in addition to writing the Business Know-How column.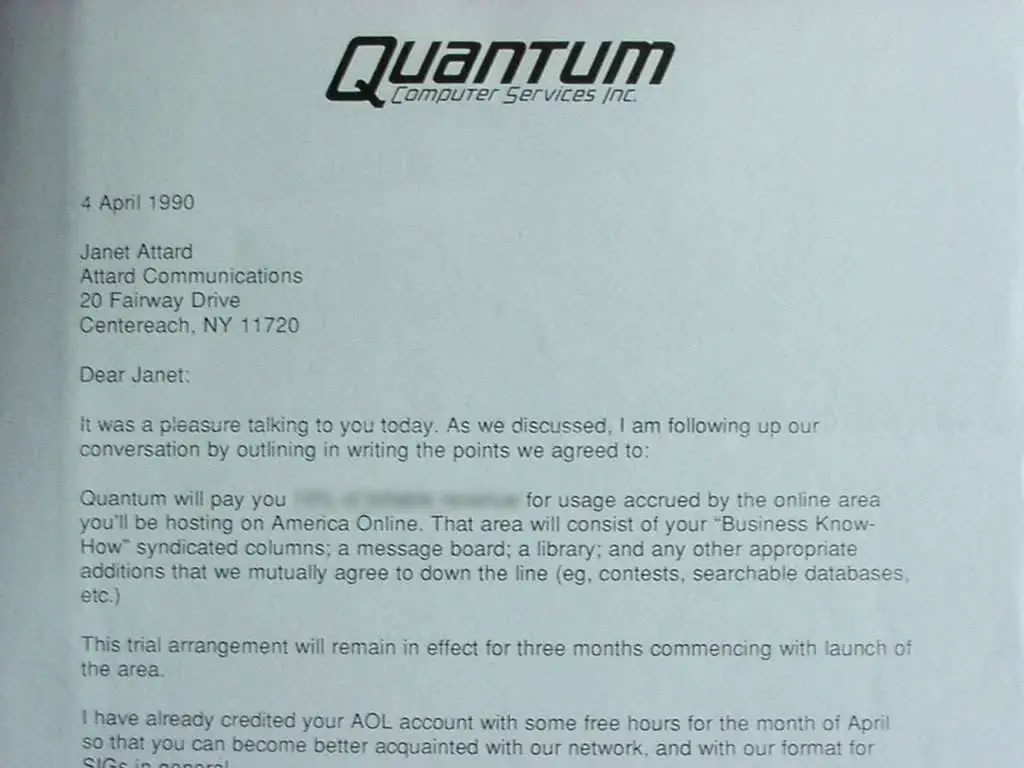 About a year or so into the "three-month trial" Microsoft made arrangements to establish the Microsoft Small Business Center on America Online and I was asked to run it.
After running the online forums and answering message board questions for a while, I realized a lot of people had similar questions about starting and running businesses. And, that gave me the idea for my first book, The Home Office and Small Business Answer Book. The book – if I could sell it – would be another income source, but just as importantly I figured it would help bring in traffic (and therefore increase the income from) the online forums I was running.
I put together a book proposal and then found a literary agent through the Writers Roundtable on the GEnie service. The agent got the book placed with Henry Holt and Company. They published the first edition of the book simultaneously in hard cover and paperback in 1993. The book was chosen as a Fortune Book Club main selection and was in the Money Book Club until that book club closed down.
I don't remember the exact date, but after a couple of years, Microsoft departed AOL and made plans to launch their own online service – MSN. I stayed on AOL after the split, running the same area I always had run, and before long added another online service client to my list: Microsoft. When MSN launched in 1995, it had a Business Know-How forum. By 1998, however, Microsoft decided AOL style forums weren't the way to go for its online service, and eventually Microsoft dropped the contracts with all the forum managers.
Business Know-How kept growing on AOL. Little by little, AOL had us create and manage additional forums and communities. There were a lot of people in multilevel marketing online and they didn't always get along in message boards with people in traditional businesses. So we created a separate forum for multilevel marketers. We also created some special interest forums for desktop publishing, for people in gift basket businesses and medical billing and transcription businesses. In the last couple of years of our AOL contract we were also asked us to take on a legal forum and a career forum as well.
The Dot Com Bubble Years
AOL, GEnie and MSN were proprietary online services. Each, in the beginning at least, were their own walled-off communities. But while they grew independently, there was also this thing called the Internet that was being developed. It was difficult for most people to use, and didn't become popular until Netscape introduced a graphical Web browser that let people point and click their way through the Internet.
Before long, we started to see people talking about the Internet in our AOL forums. The Web made it possible for anyone – at least anyone with the technical ability or the money to hire someone with technical ability – to set up their site on the Web.  It seemed  like the Internet would be the next big thing, and I wanted to be sure to claim a place – and my business name – on the web.
So, in 1996 I registered BusinessKnowHow.com. We put up a very rudimentary site that featured this lady bug graphic as the main image on the home page. There wasn't much else there, either. Fortunately the screenshot of that early site it has disappeared from the Internet Archive.
About the same time, the Air Force wanted to move their data off of GEnie and onto the Web to make it easier and more affordable for small businesses to discover Air Force procurement opportunities. Like our original Business Know-How site, the Internet Archive has fortunately lost the early version of the site – the screen shots here are from 1999 and 2003, the last year we were involved with the site.
While I was working with the Air Force, I became aware of a problem they had making their procurement information available in a timely fashion to small businesses. The way it was being done – using floppy disk sent through mail to compile a single list of all upcoming contracts across the country – was tedious, inefficient, and resulted in information about contracts up for bid not reaching small businesses in time.
I knew that it was possible to build databases on the Web that could be set up to give some people permission to enter data, and then make that data searchable and available to anyone on the web. In theory, that sounded like it would solve the Small Business Office problem by eliminating sending floppy disks through the mail. But I didn't want to suggest it to them unless I was sure it would work. So I asked a freelance programmer who did some work for me to create a business directory on our website that would use the same kind of programming that would be needed to create the procurement database for the Air Force Small Business Office. The programmer built the directory, I showed it to the Air Force people I worked with, and they realized it would solve their problem, and we wound up with an expansion of our contract with them.
The Dot Com "bubble" period that came with the development of a graphic web browser, was the Internet equivalent of the gold rush. For about the next five years, private individuals, big and small companies, and venture-backed startups all raced to stake their claim, (grab good domain names), build and publicize and their Web presences, sometimes at great cost.  
Business Know-How kept expanding our audience on AOL by using every opportunity we could to get publicity offline, and by recognizing and encouraging members of our online forums to share their expertise. In addition to the general Business Know-How small business area, we set up several special interest communities where people in desktop publishing, administrative services, gift basked design, medical billing and transcription and multilevel marketing could share tips and hints with others in their own industries. By the last year of our AOL contract, we were also hosting at least 50 live online chats a week.
I had another book published, too. To capitalize on the reputation and the Business Know-How forum on AOL, and to get more publicity for the forum, I titled the book Business Know-How with a subtitle of An Operational Guide for Home-based and Micro-sized Businesses with Limited Budgets. It was published in 2000.
We also acquired yet another online presence for a short term. Netscape's NetBusiness. AOL had acquired Netscape, and Netscape wanted a small business section. We had been putting all our content on AOL using AOL's proprietary Rainman software, but NetBusiness needed the content to be in HTML. So, we set up a subdirectory on BusinessKnowHow.com to display content for NetBusiness, and started publishing content under the NetBusiness logo, as well.
Web Traffic Limitations of a Shared Web Server
BusinessKnowHow.com and the Netbusiness subdirectory were hosted on a shared webserver. Not long after we launched the Netbusiness section on the web, however, there was a morning where a promo for one of our articles appeared above the fold on Netscape and on a top page on AOL. Our site – and everyone else's site on that shared server– slowed to a crawl because of the number of people hitting our site. Our webhost shut us down within ten minutes. Fortunately, they had a spare server and got us up and running on our own dedicated server within an hour or two.
Early Advertisers on the Web
Although I had registered the BusinessKnowHow.com domain in 1996,the site didn't have nearly as much content on it as our AOL site had. Nevertheless, we did have some web traffic, and in the dot com boom days, some advertisers were willing to pay a lot of money to run banner ads on the site. One of them was GoTo.com, the first major pay-per-click ad network. (It was a forerunner to AdSense.) Sprint asked us at some point to submit an RFP, but chose not to use our site. Not understanding what the going rates were, I had asked for way too much money.
How the Dot Com Bubble Burst Changed Things
The Dot Com bubble burst in 2000, with some of the bigger venture-backed startups going out of business after having spent millions of dollars to build their brands. However there were still companies willing to buy advertising on the Web (and on BusinessKnowHow.com) through the early part of 2001. I knew our AOL contract would be ending in June of that year, and had several other deals in the works. One was set up – I was to write the money column for Home Office Computing magazine. Another was a deal with a financial organization to set up a small business site with their branding.
That summer, those deals fell apart. I had written three columns for Home Office Computing, and was starting to write a separate feature article they had assigned me when I got a call from the managing editor and was told to stop writing. The magazine was folding.
My contacts at the financial organization had just about finalized the details of the site I'd create for them, when their top management axed the deal. I never learned why (and they never did set up a small business section to their site).
Then 9/11 happened. For months afterwards, ad revenues were almost nonexistent. Fortunately, we still had a contract to work on the Air Force small business site, and that provided the money to keep Business Know-How alive until ad revenue started to come in again the following year.
Even though advertisers left, our audience never did. When our AOL contract was up, anyone who typed in our AOL keywords on the service for the first 3 months was pointed to our website. We had an email list and newsletter and used those to drive traffic to the website, too. A signup form on the website let us get new subscribers, as well. 
Becoming an AdSense Publisher
Our web traffic kept growing, and by 2002, we started to attract paying advertisers again. Our first major advertiser came in the fall of that year. It was Constant Contact. I was thrilled. We had just started using their service ourselves a month or two earlier, and loved it. They advertised with us for several months, and then had us join what became their Solution Provider program. (We are still a Solution Provider for Constant Contact.).
But as a small business – one with no sales staff – responding to advertiser and ad agency RFPs and RFQs, scheduling the ads and making sure we got paid, was time consuming and wearisome. It many cases we wouldn't get paid until the ad agencies got paid, so it meant some payments were long in coming.
In June 2003, Google launched AdSense, a program that took the headache out of buying and selling ads for both the advertisers and publishers. AdWords advertisers could choose to make their ads available on sites that had content related to their product niche. Publishers benefited because they could gain advertising revenue just by putting some code on their website one time. Adsense would fill the ad spaces with contextual ads placed by the AdWords advertisers.
I signed up for the program as soon as I heard about it. I figured it might be an easy way to add a small amount of additional revenue to the site. Better yet, AdSense (Google) would pay us once a month without me having to invoice them. I didn't have to deal with traffic estimates, quotes, making advertiser creatives work, or sending out past-due notices to ad agencies and advertisers. Instead, I could focus on developing and managing content for our audience.
AdSense wound up providing more than just a small amount of additional revenue. They became the main advertising network we used for almost 15 years.
We also set up a small ecommerce operation, selling labor law posters and safety posters for a number of years. When the storefront software we were using became obsolete and the lease on our office space was about to run out, I decided to sell that operation to another company. I was already past the age when most people retire, and didn't want to sign another long-term lease for the office space we were in. I also didn't want to invest the money and time it would take to change the storefront software, and put efficient back-end systems in place to replace paper-based customer records and inventory "management" system we had been using.
Business Know-How Today
After selling the small ecommerce operation, BusinessKnowHow.com went back to our roots. We are a small business publisher, focused on providing information about starting businesses, marketing and Internet marketing, financing and managing small businesses. We have a world-wide audience and have grown our site by providing good content, listening to our audience's needs and paying attention to SEO practices and search engines' guidelines for webmasters.
We're still an Adsense publisher, but we also use some other advertising partners as well. Our mission – as it was when I first started providing small business content on the early online services – is to provide facts, tips and hints that really work to help you succeed in your own business.
Staying the Course
Over the years, many things made it possible for me to grow my business as an information provider and online publisher. One of the most important has been that I've been fortunate enough to spot opportunities, and take advantage of them. In almost each case, one opportunity led to another. Buying that first computer led me to get a client that needed me to get a modem. That led me to discovering online services. Running forums online led to me getting an Air Force Contract, and to me writing my first book. Ultimately, too, the online services are what spurred me to set up BusinessKnowHow.com back in 1996.
Another important thing has been all the people who have made up the Business Know-How "team" over the years. Even the smallest of businesses needs a team behind them to succeed, and that team, whether it's employees, freelancers, other small businesses or a combination of all three, needs to know each other and provide feedback and support to each other.
Then, there's the technology. Business Know-How would never have happened without computers and the digital age. Learning about and using microcomputers, modems and online services, digital cameras, cell phones and smart phones have all been important.
Related: 30 Years Online – video
And finally, and most importantly, it's been you, our audience, who has helped BusinessKnowHow.com grow. You sign up for our newsletter and return to the site to read articles. You take our surveys to help us know what to write about. You tell your friends and associates about the site and link to us sometimes in articles you write on your blogs. We wouldn't be here without you.
© 2018 Attard Communications, Inc. All Rights Reserved. May not be reproduced, reprinted or redistributed without written permission from Attard Communications, Inc.